×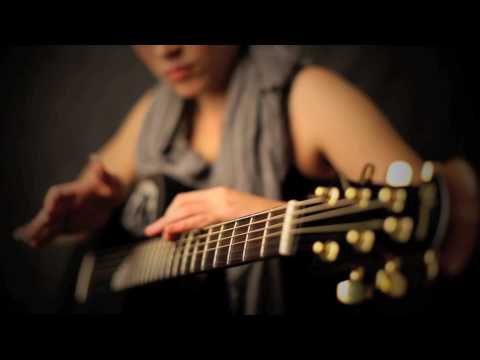 David Grohl of the Foo Fighters said it best about the legendary guitarist Kaki King: "There are some guitar players that are good and there are some guitar players that are really fucking good. And then there's Kaki King." The 32-year-old Atlanta native can be best described as your favorite guitarist's favorite guitarist.
Kaki King has been touring extensively this month, making stops in Japan and Europe. She will be performing a solo set at Barking Legs on Thursday, November 17. This is a once-in-a-lifetime chance to catch the "Traveling Freak Guitar Show" tour and experience a musician Rolling Stone has called one of the "Top 20 New Guitar Gods."
Kaki King has a collaborative portfolio that is as diverse and extensive as the techniques she uses in every album. King has worked with a range of artists, including the Foo Fighters, Timbaland, The Blue Man Group and The Mountain Goats. King's style can be best described as "post-rock", but I believe it is much more extensive than that, combining different elements of rock and jazz.
Getting her start on Velour Records, she released her debut album, Everybody Loves You in 2002. Most of her earlier work was done as a solo musician and featured fully acoustic songs.  The album received great acclaim, with critics lauding her skills as a young guitarist. But it wasn't until 2005 when she began to really experiment and started to incorporate a full band into her sound. She released ...Until We Felt Red that year, marking the first album on which she incorporated her own vocals into the music. The album oozes shoegaze and post-rock influences and has quickly become a favorite of mine.
Kaki answered questions by email while on the road:
Dave Casteneda: You are now internationally recognized as one of the "New School Guitar Gods." Your talents as a guitarist are unquestionable. What is your take on this recognition and what do you think of the current guitarists on the scene?
Kaki King: I know this is in all of my press releases but I don't think much of it.  At the risk of sounding a little enigmatic, at this stage of the game I really do believe that the guitar is the master, and all guitarists are just lifelong students.
DC: You've collaborated with a wide range of producers and musicians. How do these collaborations just come together and which have been your favorite ones?
KK: I'm lucky enough to say that most of my collaborations have been with people I had a genuine fondness for.  I've never had to work with someone because a manager or record label thought it would be a good idea.  A lot of these collaborations have led me to profound discoveries about how music is written and recorded.
DC: Is there anyone that you would just absolutely love to be in the studio with?
KK: No one I want to say out loud!  I would have loved to be a fly on the wall when Mutt Lange was producing Def Leppard's Pyromania. That record sounds like nothing else.
DC: With each album release there is a change of style. Tell me about your transition from a solo guitarist to a full band and the inclusion of vocals?
KK: I love solo guitar as a genre and as a discipline, but I knew I wasn't going to be able to creatively make record after record of just guitar.  Singing, playing with other musicians, etc., is a way for me to reinvent what I'm doing musically, even if I still write from the perspective of a solo guitarist.
DC: What are your plans for the future? Any new projects coming up?
KK: I'm kind of reestablishing my relationship with the guitar these days.  I've been playing and touring for so long that sometimes I can lose touch with what is important about being a guitarist, so I'm working on some of the basics again.
Praise goes out to ArtFront Productions for putting together this show. Kaki King has asked ArtFront to choose a local opener for the show and they have teamed up Alex Thompson of Chattanooga and West Coast multi-instrumentalist Zoe Boekbinder performing as "The Alexanders."
Zoe is an amazing vocalist and this pair up will be a sight to see live. Zoe also combines live-looping into her music, helping her create atmospheres that are mesmerizing. Add in Alex Thompson's amazing skills as a musician and this makes for an extra-special show.
Kaki King, The Alexanders
$18.50 advance, $20 door
8 p.m. Thursday, November 17
Barking Legs Theater 1307 Dodds Ave.
(423) 624-534 www.artfront.com