×
Photo by Bill Ramsey
Elton John at McKenzie Arena
Elton John performs in front of a sold-out crowd at UTC's McKenzie Arena on Saturday, March 23, 2013. John's current tour celebrates the 40th anniversary of his classic "Rocket Man" single from his 1972 album, "Honky Château."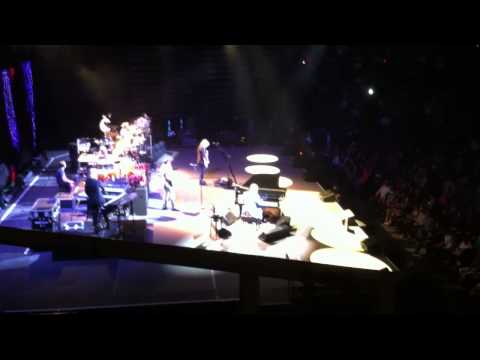 The Bitch is Back
Elton John put on a masterful show in front of a full house at The Roundhouse last night. He walked on stage just after 8 p.m., opened the show with "The Bitch is Back"—complete with "BITCH" flashing in giant letters on a screen behind him— and performed without a break for more than two hours (he paused only to bow and take a drink of water between songs). And damn if that stage wasn't the cleanest stage we've ever viewed, providing an excellent view for even those behind him.
John was in excellent voice and was joined by members of his original band (drummer Nigel Olsson and guitarist Davey Johnstone), played all the hits from the "Rocket Man" era (for which this tour is named) and then some, came back for an encore (an extended version of "Your Song"), signed autographs (we spied a Pulse cover being waved at him) and bowed and signaled repeatedly to those in seats behind and to the sides of the stage who suffered obstructed views.
Elton's stage costumes on this tour include long, sequined jackets featuring the titles of his albums of the era (he wore "Captain Fantastic" last night), and while he mainly remains seated behind his piano, he did rise after each song to strike a pose as camera flashes lit up The Roundhouse. There were many highlights ("Funeral for a Friend/Love Lies Bleeding," "Rocket Man" and chestnuts such as "Grey Seal") and many standing ovations. In this context, John's hits from the 1980s stood out as oddities on a setlist celebrating the 40th anniversary of "Honky Château," but they were also well received.The crowd cheered and sang along to almost every song—particularly when John stopped singing and playing "Crocodile Rock," exhorting the audience to fill in the gap.
At 65 (he'll turn 66 on Monday), there are few legends on the road today who can compete with Elton and the tickets were well worth the price. The Bitch is indeed back and he's in fine form. His current jaunt is the top grossing tour on Billboard's charts, just returning from a swing through Brazil before launching in the South this month with many shows to go. John mentioned a new album due out in September and a biopic focusing on the "Rocket Man" years is moving closer to production, according to The Guardian, a U.K. newspaper.
—Bill Ramsey for The Pulse
Setlist
The Bitch Is Back
Bennie and the Jets
Grey Seal
Levon
Tiny Dancer
Holiday Inn
Believe
Mona Lisas and Mad Hatters
Philadelphia Freedom
Candle in the Wind
Goodbye Yellow Brick Road
Rocket Man (I Think It's Going to Be a Long, Long Time)
Hey Ahab
I Guess That's Why They Call It the Blues
Funeral for a Friend/Love Lies Bleeding
Take Me to the Pilot
All the Girls Love Alice
Sad Songs (Say So Much)
Daniel
Sorry Seems to Be the Hardest Word
The One
Don't Let the Sun Go Down on Me
(Band introductions)
I'm Still Standing
Crocodile Rock
Saturday Night's Alright for Fighting
Encore: Your Song
720 East 4th Street, City of Chattanooga, Tennessee 37403