×
Eric Clapton
Eric Clapton on tour in 2011. (File photo)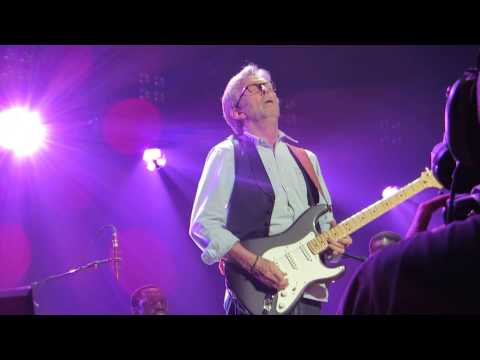 Hello, Old Friend
After an excellent opening act of Jakob Dylan and the Wallflowers, Eric Clapton took the stage at Nashville's Bridgestone Arena to a packed house during his 50th anniversary tour. Opening the show with "Hello Old Friend" from 1976's "No Reason to Cry," Slowhand worked his way through a collection of hits and cover songs for nearly two hours. It's hard to please everyone when drawing from a 50-year career, but Clapton reached out by playing casual fan hits like "Wonderful Tonight" and "Cocaine" mixed with deeper cuts like the B-side Derek and the Dominos song "Got to Get Better in a Little While" and "Goodnight Irene" from his current album "Old Sock."
Most Clapton shows are decidedly low-key. He doesn't talk much to the audience beyond introducing songs and sidemen. One of the highlights of the show is when Clapton turns the reins over to one of his talented band members—this tour features Paul Carrack of Ace and Mike and the Mechanics fame. They covered both Ace's "How Long" and Squeeze's "Tempted," each featuring brilliant solos by Clapton, enhancing the song far beyond its original recording. But Clapton frequently traded solo duties with bandmate Doyle Bramhall II and pedal steel player extraordinaire Greg Leisz, cementing Clapton's reputation as a collaborative musician and reluctant band leader. Rounding out the rhythm section with Willie Weeks on bass and Steven Jordan on drums, Clapton's touring band is likely the tightest blues band on the planet.
Research indicates that the set list changes little from night to night, but at 67,  Clapton is entitled to play whatever he wants whenever he wants. There were some disappointed boos and murmurs after the encore when the concert ended without "Layla," but those crestfallen concert goers must have been in the bathroom during the raucous rendition of "Tell the Truth," which provided the soaring Clapton solos that created a living legend. 
This tour is rumored to be one of Clapton's last, so it might be worthwhile to score some tickets for his Atlanta show on March 27. It's guaranteed to be a good time.
—John DeVore for The Pulse
Setlist
Hello Old Friend
My Father's Eyes
Tell the Truth
Gotta Get Over
Black Cat Bone
Got to Get Better in a Little While 
Tempted (Squeeze cover with Paul Carrack on lead vocals)
I Shot the Sheriff
Driftin' Blues
Nobody Knows You When You're Down and Out
Tears in Heaven
Goodnight, Irene
Wonderful Tonight
How Long (Ace cover with Paul Carrack on lead vocals)
Stones in My Passway
Love in Vain 
Crossroads
Little Queen of Spades
Cocaine
Encore: Sunshine of Your Love, High Time We Went (Joe Cocker cover with Paul Carrack on lead vocals)
501 Broadway, Nashville, Tennessee 37203