×
Main coffee art
×
Behind the scenes video at Camp House Espresso: How coffee art is created
For the Jan 24, 2013 issue, "No Ordinary Joe" we went behind the scenes at Camp House Espresso for a short interview and a look at how coffee art is created.
×
Cadence Coffee Co.
×
Chattz
×
Greyfriar's Coffee & Tea Co.
×
The Ice Cream Show
×
Starbucks Read House
×
Stroud's
×
Rembrant's
×
Toast
×
Stone Cup Coffee Bar
×
Camp House Espresso
×
The Hot Chocolatier
×
The Mean Mug
×
Pasha Coffee & Tea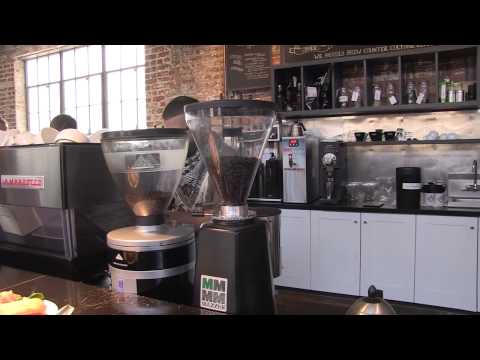 Coffee. Aromatic, flavorful, intoxicating, addictive, necessary. The yin to alcohol's yang (and its antidote), coffee, and our collective national obsession with it—as a day-starter, conversation prop and, increasingly, a choice reflecting our personal politics and lifestyle—has become as an indelible mark on and an elemental accoutrement to our daily lives as smart phones. What brand or bean we choose, its provenance, and with whom and where we drink it has reached a zenith, overtaking even that of its more addictive counterpart. But we come not to praise (or condemn) the merits (or demerits) of its properties, but rather to focus on the culture it has given rise to—coffeehouses. As the venue of choice for iconoclasts of the Beat Era, the coffeehouse was once the exclusive domain of the counter-culture, existing mostly on college campuses. Poets, folkies and intellectuals were its (often ridiculed) clientele and entry dictated a certain validation (as do record stores these days in Seattle and Portlandia). Technology—and our other national obsession of duplicating, branding and multiplying the source of a very good thing (Starbucks, et. al.)—changed all that. Today, coffeehouses serve bohemians and blue-collar types, artists and writers at both ends of the economic spectrum, and act as a home office for the under- and unemployed, self-employed and otherwise xenophobic members of our society who seek comfort (and free Wi-Fi) over an endlessly (at best) or cheaply (at worst) refillable cup of Free Trade-verified, eco-certified (hot or iced) coffee—preferably with a double-shot of this or that, with room, thank you very much. It is into this vortex that The Pulse dispatched its crop of fresh Spring interns to report on the vibe of Chattanooga's downtown coffeehouses. And who better to unleash upon the city's coffeehouse culture than Gen-Y college students? Young, time- and sleep-starved (to say nothing of hyper-wired via laptops and smart phones), our intrepid group of UTC students rediscovered favorite haunts and found new spaces. You might learn something, too. As for us, the aging, cynical editors? We appreciate each of these outposts, but we still mostly sip our joe from stained mugs, the brew dripping dark and muddy from our office Bunn-O-Matic. Cheers.
Downtown/City Center/Art District/UTC
Cadence Coffee Co.
If you like Starbucks but are too hip for the chains, Cadence Coffee provides the crisp, clean feeling with a friendly, local feel. Tucked away in the building opposite The Honest Pint on Patten Parkway, the location offers plenty of meter parking during the day. With a leather couch in the back of the large open space, the quiet, softly lit atmosphere (don't bump your head on the low-hanging lamps) provides for the perfect place to stow away and get that work done that you've been procrastinating over for so long. Just a year old, Cadence was founded by Brian Turner and Shannon Greer, two coffee lovers who wanted to create a "Cheers"-style coffee shop where they could get to know their customers and, most importantly, provide a variety of high-quality coffee. From all accounts, they've succeeded. Cadence is home to perhaps the selection of custom brews in town, but the menu focuses mainly on the shop's wide variety of coffee and features only a few food items. Coffee bean sacks on the walls come directly from One Village, Cadence's primary roaster, ordered fresh every week. So snuggle in to that big, comfy couch and enjoy some peace away from the noise of the city.
Cadence Coffee - 16 Patten Pkwy., (423) 521-7686, cadencecoffee.com, M-F, 6:30 am - 9 pm; Sat, 7 am - 9 pm
Chattz
Step off the busy sidewalks of Market Street and into this small nook and discover a European-style coffeehouse in Chattanooga. Settle down with a house Guatemalan or Brazilian blend at the cafe's tables facing the windows to watch the passersby bustle to work. Parking is a bit scarce, but meter spots can be found behind the building. Take a piece of the comforting cafe with you to work along with one of the several styles of signature Chattz mugs. The food menu consists of the usual coffee shop cuisine—scones, pastries and bagels—but Chattz is more about a feel, a place that "values rituals, rhythm, and traditions," as they say. You'll be sure to receive a warm welcome from a smiling barista ready to help you face the day with your early-morning caffeine buzz. Chattz closes a little earlier than some of the other coffeehouses in town, but provides the perfect place to stop by with a co-worker for a light lunch or to get your daily morning java. Chattz has aimed to provide coffee lovers with a worldly, coffee-lover's experience since opening in 2002, so aficionados can visit its coffee-roasting studio at 2627 Broad St. and watch as the raw, green coffee is roasted golden brown and prepared in a cup specifically designed for you.
Chattz -1010 Market St., (423) 756-8890, chattanoogacoffeecompany.com, M - F, 7 am - 5 pm; Sat, 7 am - 1 pm
Greyfriar's Coffee & Tea Co.
The name evokes misty images of some sort of medieval English tavern at the end of a cobbled street, and that is exactly what Greyfriar's Coffee & Tea Co. is to Chattanooga, opening in 1993 (the medieval ages of coffeehouses in Chattanooga) and the city's oldest coffee bar. While roads are now (mostly) paved, this coffee shop is still a beacon of light, thanks to the purple and white mural proclaiming the wonders of Rare Coffee inside. Before crossing the threshold, you'll see a shield-shaped sign reminding customers that the brew of coffee beans they'll be drinking is made with as much pride as a brew of barley from the local pub. The menu boasts various takes on traditional coffee, offering both distinctive flavor combinations and unique serving methods. Traditional brewed coffee is available, but Greyfriar's also offers a beautiful "pour-over" and the posh French press method for those who want to explore the bold taste of European-style coffee. Dark wood, grey marble and pure white cups provide a clean backdrop for Rare Coffee, which is the starring in-house roast. RareCoffee.com supplies coffee beans "roasted with genuine knowledge, thoughtful experience and creative artistry" to coffee houses like Greyfriar's.  Whenever you need a mini-vacation or trip back in time, stop by this coffee tavern for a taste of simplicity.
Greyfriar's Coffee & Tea Co - 406-B Broad St., (423) 267-0376, M-Th, 6:30 am - 5 pm; Fri, 6:30 am - 8 pm; Sat, 7:30 am - 8 pm
The Ice Cream Show
An ice cream parlor amidst coffeehouses? Heresy, you say! Wait. Here's the deal: Enjoy dinner on North Shore, stroll across the Walnut Street Bridge and snuggle into a lounge chair at The Ice Cream Show to watch the boats glide down the Tennessee River. What's with the name? Exactly what it says—a show of ice cream, and delicious coffee, a blend of hot and cold starring the best elements of each sensations. Watch as the friendly and helpful staff put your ingredients (not toppings) of choice into a machine that cranks out a perfectly proportioned, deliciously smooth product of ice cream. For those craving a combination of  espresso and ice cream, try the Barrel Racer, a vanilla or chocolate shake with a shot of espresso. Located on the city side of the walking bridge, the shop's quirky signs and colored string lights make for a fun  atmosphere. Bring your homework, or even a date, and chill out (or warm up) with a cup of gourmet coffee from their roaster in Seattle.
The Ice Cream Show - 105 Walnut St., (423) 702-5173, theicecreamshow.com, M - Sat, 9 am -11 pm; Sun, 1 pm-11 pm
Starbucks Read House
If the ubiquitous chain's Hamilton Place location offers a cozy fireplace and its Hixson and Brainerd branches are basically drive-thru outposts, the downtown Starbucks sits adjacent to the handsome confines of the historic Read House Hotel. Ever low-lit and utilitarian, Starbucks is the McDonald's—no, the Fuddrucker's—of coffeehouse chains, and downtowners addicted to the mermaid are drawn by its magnetic appeal for consistently fresh, tasty coffee at a known price and the familiar strains of light pop and jazz music, if not the added value of being a source for The New York Times. If there's comfort in familiarity, Starbucks has cornered the market and its breakfast and lunch offerings are a notch above most. Baristas are friendly and we always enjoy the atmosphere of the Read House lobby. Travelers expect an in-house Starbucks, but local workers are its true clientele.
Starbucks Read House - 827 Broad St., (423) 643-1248, starbucks.com, Mon - Th, 6 am - 9 pm; Fri, 6 am - 9:30 pm; Sat, 7 am - 9:30 pm; Sun, 7 am - 9 pm
Stroud's
Named after Stroud Watson, the city planner who developed The Chattanoogan (a fine hotel that is bothersome only for its ownership), Stroud's is a quick stop for coffee for anyone downtown south of Broad Street. Many of the neighboring TVA employees file into the small shop to take advantage of the different sandwiches and paninis made with Boar's Head meat. The friendly staff greets you when you walk through the door, prepared to answer any questions you have about the menu. With 11 years at their corner location, Stroud's knows how to take care of their customers, locals and out-of-towners alike. The small cafe is carpeted to complement the coziness of the golds, greens and browns of its surroundings with a bar and stools facing the street. Two tall and narrow old-school coolers stand to the left of the entrance where you can grab a soft drink and enjoy the change from a busy work day. Stroud's serves local Royal Cup coffee and you're free to refill your own mug. In the morning, enjoy a plump, freshly baked muffin, fresh fruit or an organic granola parfait. For lunch, try a salad or a fresh soup. An alternative hotel coffeehouse/shop is a very good thing. We love the historic Read House, but The Chattanooga must keep the Sheraton on its toes.
Stroud's - 1201 Broad St., (423) 424-3770, thechattanoogan.com, M - F, 8:30 am - 3 pm
Rembrandt's
Located in the heart of the Bluff View Art District, Rembrandt's is appropriately named and the quintessential definition of quaint. It is the face of art district, as one employee of the coffee house said during our visit. Known for its pastries, Rembrandt's is a pageant considering its partnership with  the Chocolate Kitchen, a chocolatier in its third generation of ownership also located in the art district. From the exterior, the popular coffeehouse looks like something you might see in "Les Miserables," complete with a wrought-iron gate, railings and vine arbors. The French-inspired architecture adds a homey, cozy feel inside, complete with a Western European vibe while arthouse jazz accompanies an aroma of the good stuff—coffee beans. As a seemingly slow-paced house, the space is great for reading, conversation and meetings.
Rembrandt's - 204 High St., (423) 265-5033, bluffviewartdistrict.com, M - Th, 7 am - 10 pm; Fri, 7 am - 11:30 pm, Sat 8 am - 11:30 pm; Sun, 8 am - 10 pm
Toast
Also known as Coffee Crafters Toast Café, Toast is located on the corner of Vine and Lindsay Streets in the former Chad's Records (which is just a few doors down), so it might seem natural that its usual customers at would be UTC students taking a break from the dorms only a short walk away. However, the audience for the artful coffee creations is broad and welcomes connoisseurs and coffee lovers of all ages. Owner Kent Baumhover is a Delta flight attendant (hence the aircraft in the logo) who routinely travels to Europe and Toast is inspired by his travels. "Spending time in cafes around Europe really gave me a love not only for coffee itself, but the culture and community that cafes bring together," he told The Pulse in a 2011 profile. Windows span a good portion of the storefront providing natural light to complement the relaxed vibe of the coffee house. Studio lights hang from the ceiling, highlighting the quirky art on the walls, adding to the gallery-like feel. Coffee is certainly personal here, and while basic options are available, those seeking a little kick in their morning cup can "craft" their own latte using the many syrup flavors available. Even the names of breakfast sandwiches reflect the positive atmosphere, with titles like The Sunshiner and Katie's Power Breakfast. Open at 7 a.m., Toast is the perfect place to begin your day with a smile. 
Toast - 326 Vine St., (423) 756-9995, M - F, 7 am - 6 pm; Sat-Sun, 8 am - 2 pm
North Shore
Stone Cup Coffee Bar
In the vibrant North Shore area of the city, Stone Cup is equal to its radiant surroundings. Whether you're stopping in on your way to work, doing some last-minute studying before an exam or just coming to meet up with friends, Stone Cup fits the needs of many. Divided into two sections— one side features comfy (and I mean comfy) couches, tables and bookshelves, the other is more secluded, decorated with artwork for a quieter experience for crammers of caffeine and sloppy notes. The shop also offers pastries—and beer, for those looking to just hangout after work. With a great view of the river and Bluff View Art District, the outdoor balcony brings another relaxing feel to the already trendy North Shore area.
Stone Cup - 330 Frazier Ave., (423) 265-5010, stonecupcoffeebar.com, M - W, 7 am - 9 pm; Th-Sat, 7 am - 11 pm; Sun, 7 am - 9 pm
Southside
Camp House Espresso
If your tastes veer toward the creative and artsy, you're going to love the Camp House, a laptop-lovers' Wi-Fi paradise located on Williams Street in an old warehouse on the Southside that continues a popular urban theme. The relaxed yet sophisticated atmosphere is ideal for studying students, quiet conversations or friendly rendezvous. Poetry, music and storytelling performances are no strangers here—the coffeehouse is a popular venue for many local artists who follow the open-mic circuit every Thursday and during other monthly events. And, oh yeah, the coffee. The Camp House seeks to creatively build a better coffee culture by employing Fair Trade practices and using exact methods in serving high-quality coffee. And who doesn't love latté art? Camp House baristas design some of the city's best (see video accompanying this story online at chattanoogapulse.com). Complete with a menu for breakfast, lunch and dinner this house does much more than coffee—one of The Pulse's favorite hangouts.
Camp House Espresso - 1427 Williams St., (423) 702-8081, thecamphouse.com Mon - Sat, 7 am - 7 pm (later for live events)
The Hot Chocolatier
Another non-traditional entry, the HC's native owners Wendy and Brandon Buckner  mastered their craft through study in France and Belgium, bring the boutique-style trend of European chocolate shops to Chattanooga at The Hot Chocolatier—and that's good enough for us. After all, what goes better with coffee than chocolate? That's a crack-meets-crack combination that's hard to beat. A newly opened space features a window allowing customers to see the production of truffles and cupcakes, ensuring everything is truly "made from scratch." While specialties revolve around sweet treats like French macaroons, Whiskey Pecan Bread Pudding, squirrel cake and gourmet chocolates, The Hot Chocolatier offers an array of deliciously unique hot drinks. If you're looking to add a little sugar and spice to the average morning drink, The Hot Chocolatier is for you. They offer the Original Dark Chocolate drink, along with the appropriately named Hottie. Like all good things, the Hottie includes chocolate with hints of ancho, cayenne and chipotle peppers mixed in. In addition to creating artisan drinks and tiny treats, The Hot Chocolatier can create one-of-a-kind chocolate sculptures for any occasion. After all, why have an ice swan at a wedding when there could be a chocolate swan? Parking available both on West Main Street and in the adjacent lot.
The Hot Chocolatier - 201 W. Main St. , (423) 266-3066, thehotchocolatier.com, Tues - Thur, 11 am - 7 pm; Fri - Sat, Noon - 9 pm
The Mean Mug
If you're looking for Central Perk, the fictional coffeehouse/clubhouse of the "Friends" cast, in Chattanooga, head for The Mean Mug. The Mug is the city's newest coffeehouse and the latest venture of Matt Lewis and Monica Smith (who also operate The Honest Pint, Terminal Brewhouse and Hair of the Dog—all local institutions). Located in a rustic Southside building next to the emerging Enzo's Market, the Mug is casual, cool and quiet, featuring a coffee bar, tables and a relaxed den-like couch area in the back, all in a bright space darkened by wood floors, brick walls and high ceilings. Another favorite Pulse hangout, the glow of Macbooks and the strains of light, personal conversation and soft music provide the ambience. The coffee shares a starring role with a changing array of breakfast items—handmade pastries and cakes by Monica Smith and staff—and artisanal sandwiches and soups along with daily specials. Bring your laptop or page through the selection of magazines and books; or bring your friends for a cup of java. Plenty of parking on street or behind the building makes for easy access.
The Mean Mug - 114 W. Main St., (423) 825-4206, meanmugcoffee.com, Mon - Sat, 7 am - 5 pm
St. Elmo
Pasha Coffee & Tea         
The eclectic neighborhood of historic St. Elmo might be the last thing you'd expect to find at the bottom of a mountain, yet that's precisely why Pasha fits in so well. Unique scents of coffee and curry mix together, welcoming wandering locals into the warm, open space. Pasha's charm is drawn from the strings of lights, local art, and reading or having a coffee date at the bar tables seems a little more exotic, bringing a subtle Middle Eastern flair to East Tennessee. Coffee is served in handcrafted mugs begging to be Instagramed. Breakfast is served all day, and if you're feeling courageous, try the "Slumdog" scrambled egg and curry sandwich. Leather couches and plush armchairs invite you to take your coat off and stay awhile, which is now possible, because Pasha is open till 9 p.m.  They host weekly "neighborhood-oriented" activities, such as poetry readings and live music nights. If you want to meet with hip artists, vinyl record collectors or literature buffs, Pasha should be your new usual spot. Small gravel lot and some street parking, so plan to car-pool with friends.
Pasha Coffee & Tea - 3914 St. Elmo Ave., (423) 475-5482, pashacoffeehouse.com, Mon - Fri,  7 am - 9 pm; Sat, 8 am - 9 pm